ARBOR's LYNC-712/715- Lightest, Thinnest and Most Reliable Industrial Panel PC
After launching LYNC-7123 this May, Arbor Technology Corp. releases its newest and reliable family products, LYNC-712 and LYNC-715 for entry market of factory automation. With good performance, ultra slim (4.4cm for LYNC-712, 4.68cm for LYNC-715) and light mechanical design (2.2KG for LYNC-712, 3.4KG for LYNC-715), LYNC-712/715 can not only smoothly run application software but also be easily installed and maintained by users.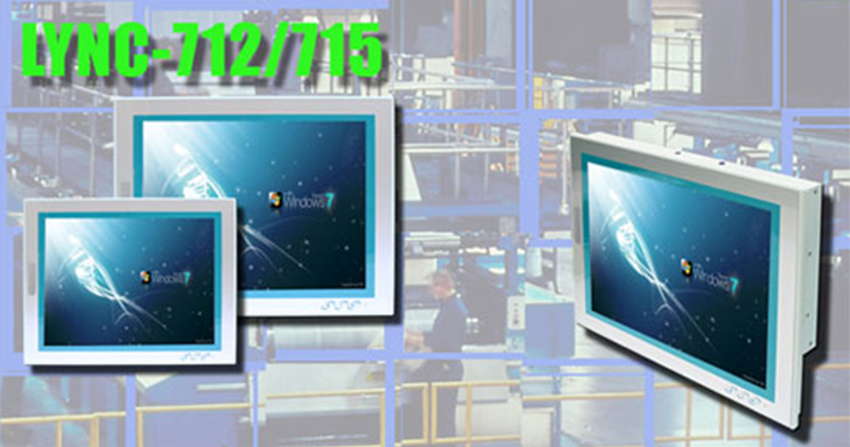 LYNC-712 provides 12" LCD display, and LYNC-715 offers 15" LCD display, designed in PC-based architecture. Both of them are equipped with flush front panel rated IP65 without any gap between front bezel and LCD screen, making LYNC-712/715 easy to clean. Besides, one USB port with water-proof cover is reserved on the front panel to enable users to access the system or upgrade programs.
Another considerate feature on LYNC-712 & LYNC-715 is the screen on/off button on the front. It can just turn on/off the backlight of display whenever necessary. For example, when the operator of panel PC needs to leave for a while, he can just turn off the display to save energy instead of turning off the whole panel PC.
Although LYNC-712/715 aim at entry level market, they still possess various splendid features such as wide voltage input from 9V to 36V and wide temperature range from -20°C to 55°C, suitable for the application of most factory environments.
Both LYNC-712/715 have the same features as below:
Flush front panel: Easy to clean, IP65 compliant
Front USB: Easy to access and upgrade program
Brightness adjustment buttons on front panel: Convenient for operation
Screen on/off and Power on/off on front panel: Energy saving
Outside accessible CFast: Easy to upgrade
High brightness: Clear to show contents
Ultra slim and light: Easy to install and suitable for any space
Rich I/O: Convenient for multiple connectivity
Fanless design
Wide voltage: 9~36V
Wide temperature: -20~55°C
Mini PCIe socket for Wi-Fi