ARBOR's ARTS Series Box PC Hits the Embedded Controller Market of Railway Vehicles
Rail transportation industry has been developed for ages. However, it never stopped thanks to the advanced modern technology and rolling stock embedded controllers. Playing an indispensable role in human's daily life, railway transportations such as Mass Rapid Transportation (MRT), Subway, Monorail train, etc. require an intelligent computing as the supervisor to offer convenient and efficient services. To satisfy these needs of railway business, ARBOR launches the rail vehicle PC, ARTS Series.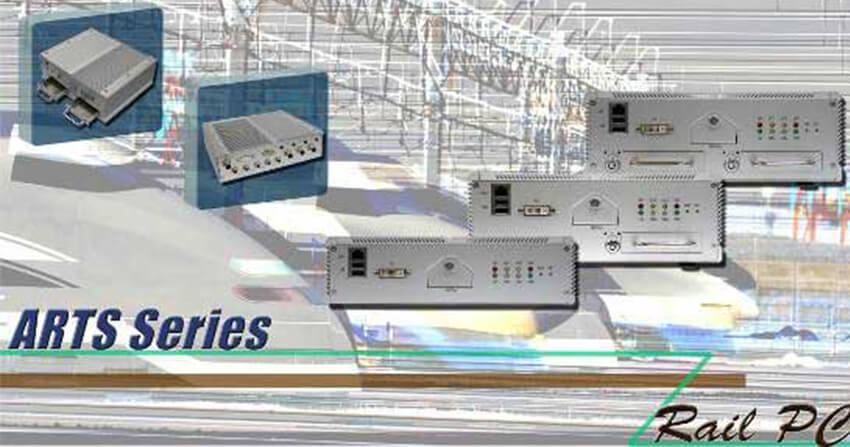 ARTS Series includes three main models: ARTS-3672, ARTS-3251/3651 and ARTS-3250/3650. According to different applications, ARTS-3672 is designed with Core i7, supporting RAID 0, 1 with one internal SATA DOM and two external accessible SSDs suitable for in-train surveillance. Based on Atom/Celeron dual core CPU, ARTS-3251/3651 provides one PCI expansion slot and one external accessible SSD for customized function adoption. ARTS-3250/3650, another model of Atom/Celeron dual core CPU platform, installed with an internal 2.5" SSD, can be easily deployed as the central controlling hub in rail vehicle in terms of its low profile mechanical design.
Reliability is critical for on-vehicle PCs, especially for train applications. Accordingly, all ARTS Series apply M12 type to power-in, LAN, and audio connectors, M8 type to USB, COM RS485 connectors to ensure the performance under severe shock and vibration. Moreover, qualified for the standards of EN50155 TX, ARTS Series can operate under -40°C to 70°C environment with its fanless design. In any train or other vehicle applications, ARTS Series is capable of resisting harsh environment and working well.
Proudly to say, ARTS Series has already been through some world-famous companies' tests so far. The positive results verify the great reliability and high performance of ARBOR's ARTS Series Box PC.