ARBOR Launches 19" Medical Station to Develop Healthcare Series for Variety of Application
Targeting on medical image diagnosis application, ARBOR upgrades the 19" medical station to the 4th Generation Intel Core i5 Processor. With high graphic performance, M1922 becomes doctor's perfect assistant of medical diagnosis.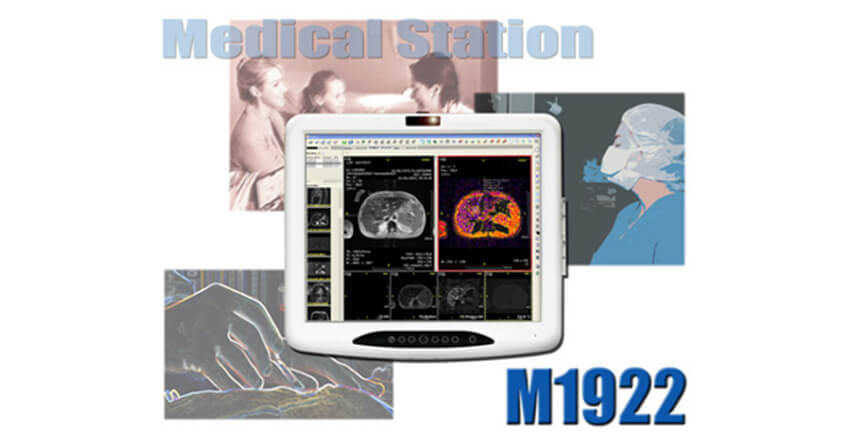 Rich I/O and Multi-connectivity for Massive Data Transmission
M1922, the fanless medical station, offers two selections of platforms with Intel HD Graphics: Intel Core i5-4402E 1.6GHz processor or Intel Celeron 2002E 1.5GHz processor. Both are installed with 4GB DDR3L SO-DIMM memory and 32GB mSATA SSD or 2.5" SATA HDD/SSD storage. Applicable for clinical station, Nursing and PACS, M1922 supports rich I/O and multi-connectivity, including a SD card slot, dual smart card reader slots, Bluetooth, Wi-Fi, two Ethernet LAN ports, three RS-232 serial ports, and four USB3 ports. To work efficiently, M1922 also reserves one RFID and one DVD-RW drive as optional devices to fulfill further requirements.
Extraordinary Visual Experience with High Graphic Performance
Based on Intel's 4th Generation Core processor, M1922 provides great visual experience for medical services. With the design of one DisplayPort (DP), M1922 can have dual-screen graphic displays to simultaneously transmit 1080P full HD medical graphics. The optional serial digital interface (SDI) connector of M1922 enables the video input of endoscopy surgeries in high resolutions. In addition, the design of optional front 5.0 megapixel CMOS camera facilitates the increasing demand of telemedicine and telecare services.
Reliable and User-friendly Designs for Medical Services
Additional considerate designs such as remote control and docking bay for alternative external battery greatly enhance the convenience of medical environment. Regarding emergency circumstances in Hospital, the optional battery can serve as uninterruptible power supply (UPS) to keep all medical procedures from any accidental situations.
Launched with Intel's 4th Generation Core Processor, ARBOR's M1922 leads medical services into a smart and friendly world.