ARBOR Launches Industry-Specific Robust Embedded Computers with AMD G-T40N Platform
Supporting digital signage, POS & automation applications requiring high performance and intelligent manageability with three new models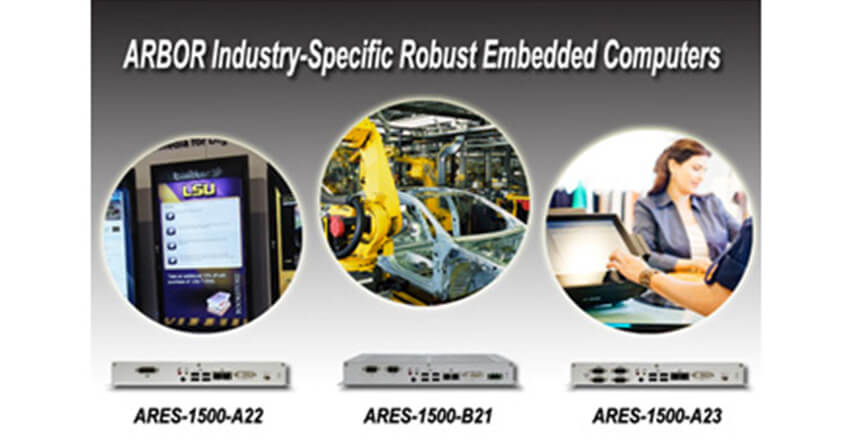 ARBOR Technology, a leading IPC provider of embedded computing solutions, has announced its new 1U-height fanless, embedded computers to expand its ARES-1500 series, based on dual-core AMD Embedded G-T40N APU, combined with the AMD A50M chipset, allows end users to have a robust platform. The new embedded computers offer operating temperature range of -25 to 55°C range and provide a fanless as well as cable-free design, making them unique for industrial use. Currently, there are three new models for specific industrial application: ARES-1500-A22 for Digital Signage Player, ARES-1500-A23 for POS Controller and ARES-1500-B21 for Automation Applications, all of them deliver scalable high performance with low power consumption.
ARES-1500-A22/A23/B21 soldered onboard AMD G-series Dual Core 1.0GHz Processor and 8G DDR3 SO-DIMM memory, which providing up to 30% more energy efficient compares with other same level of processors. Also support mSATA and SATA III storage to enhance its reliability and performance of data transmission. Moreover, not only its fanless and Aluminum chassis is ideal for harsh working environment requiring low voltage and low noise, its low profile enclosure also brings a sense of design and ultimate radiate heat function.
Tailored for Specific Industries to Emphasize Its Unique Functionality
ARES-1500-A22 features with 1X DVI for digital video output, and 1X DB-26 for dual channel 24 bit LVDS, and is powered by AMD G-Series APU with AMD Radeon HD graphics, which make it a better vision & video data processing and ideal for digital signage player. As for ARES-1500-A23, it owns rich I/O interfaces to meet the unique requirements of external connection for POS Controllers. Especially, it comes with 1X 24V RJ11 for cash drawer and 1 X 12V DC output for second monitor. ARES-1500-B21 is the other industry-specific model for automation application. For better connectivity, it supports triple-mPCIe for wireless connection, including 3G, WiFi and GPS, to fulfill different requirements, like connecting to centralized monitoring network to complete mission critical tasks. Those robust embedded computers are tailored for its distinct application, offering users a multiple choice.
Above three models are compliant with CE, FCC Class A certification. Thanks to its compact size of 1.7 Kg gross weight, the robust embedded computers are suitable for space-limit application, the modularized design also makes them easy to implement, integrate and maintain.