New ARBOR Qseven CPU module with single-chip, quad-core Intel® Pentium® / Celeron® N3000 processor family
ARBOR Technology, a leading IPC provider of embedded computing solutions, announces the immediate availability of the EmQ-i2200 Qseven module based on the new Intel® Pentium® / Celeron® processors (Intel® codenamed Braswell). Based on this new premium class low-power design, the robust Qseven modules consume on average just 6 watts while providing increased graphics capabilities and overall performance. Up to 16 graphics execution units can support up to three HD displays or two 4k displays and achieve a theoretical peak performance of 358.4GFlops per second. Additionally, the widely scalable general processing power - from 1 GHz dual-core to 2GHz quad-core - prepares the modules for a whole range of fanless and rugged embedded computer designs based on the Qseven footprint.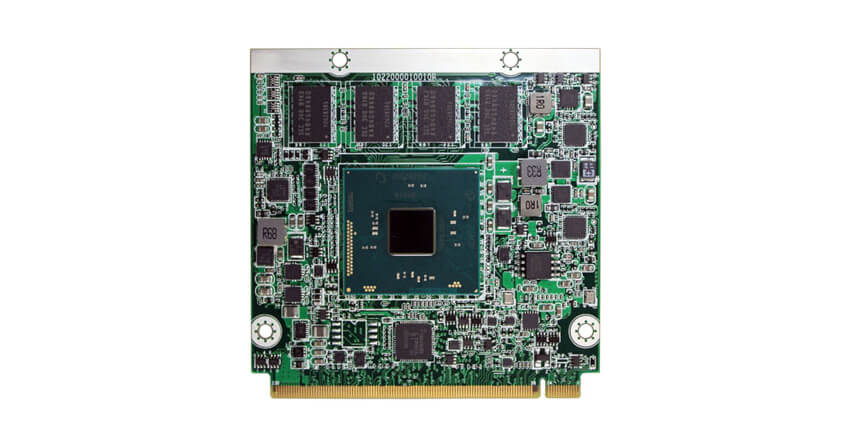 The modules support Intel® Advanced Encryption Standard New Instructions (Intel® AES-NI) set, which is more relevant than ever in practical applications. This allows developers to offload particularly compute-intensive packaging and encryption routines of the well-known cryptographic algorithm AES (Advanced Encryption Standard) into hardware, thereby enabling high performance encryption without putting a significant burden on the CPU cores.
The EmQ-i2200 module comes in three different processor versions for high scalability. These range from the entry-level dual-core Intel® Celeron® N3060 with 1.6/2.16GHz to the quad-core Intel® Pentium® N3710 with 1.6/2.4GHz, each with a power consumption of 4 watts for standard applications (SDP = Scenario Design Power).
The Qseven module is equipped with up to 8GB dual channel DDR3L memory and up to 64GB eMMC 5.0 for mass storage. The enhanced integrated Intel® Gen8 graphics supports DirectX 11.1, OpenGL 4.2 and OpenCL 1.2. The new high-performance, hardware-accelerated video decoding of H.265/HEVC, requires a 50% lower data rate compared to H.264/AVC, making it possible to stream 4K videos in real time.
Up to 4K (3840 x 2160 pixels) resolution is supported by either the DisplayPort or HDMI interfaces. In addition, the EmQ-i2200 module has a default 24bit LVDS interface. The Qseven specification includes an optional pin out which replaces the LVDS interface by two sets of Embedded DisplayPort signals. This optional implementation allows operating 3 independent displays.
Thanks to native USB 3.0 support, the EmQ-i2200 module provides fast data transmission despite low power draw.The modules achieve two USB 3.0 Super-Speed ports and four USB 2.0 ports with Hi-Speed data transmission. Three PCI Express 2.0 lanes and two SATA interfaces with up to 3Gb/s enable fast and flexible system extensions. The Intel® Ethernet Controller i210 guarantees the best software compatibility. Completing the feature sets are: one UART interface, I2C bus, LPC bus and SDIO for easy integration of legacy I/O interfaces and Intel® High Definition Audio for Pentium® / Celeron® N3000 processors family.
The EmQ-i2200 will be officially released in December; please contact local sales support.
The following CPU variants are supported by the module:
| | | | | | | | | |
| --- | --- | --- | --- | --- | --- | --- | --- | --- |
| COM/Processor | Cores | Cache [M] | Clock [GHz] | Onboard Memory | Onboard eMMC | SDP/ TDP [W] | Brand | Remark |
| EmQ-i2200-N3710-4G | 4 | 2 | 1.6–2.4 | 4GB | - | 6/- | Intel® Pentium® | OEM Request |
| EmQ-i2200-N3160-4G | 4 | 2 | 1.6–2.08 | 4GB | - | 6/- | Intel® Celeron® | |
| EmQ-i2200-N3060-4G | 2 | 2 | 1.6–2.16 | 4GB | - | 4/- | Intel® Pentium® | OEM Request |