ARBOR Mobile POS System Wins Taiwan Excellence Award 2016
ARBOR Technology, a leading provider of embedded computing solutions, is proud to announce the HORECA-0975, a dual mode mobile POS system, has received the Taiwan Excellence Award 2016. The HORECA-0975 has been awarded for its extraordinary design, high quality configuration and scientific concept of ecosystem services.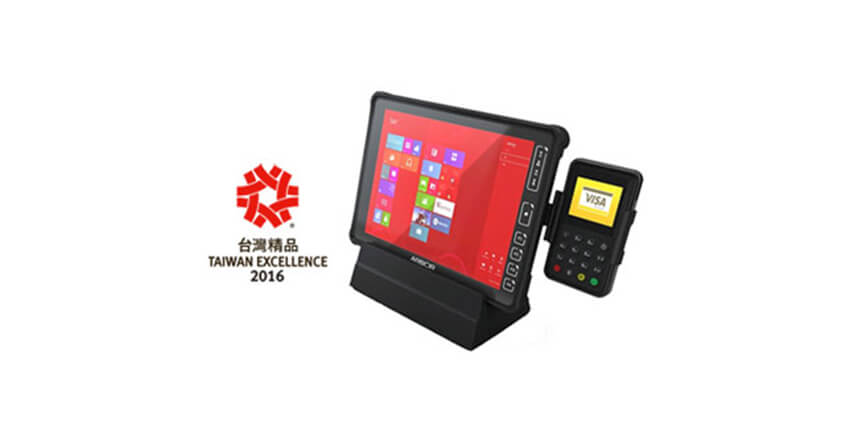 The Taiwan Excellence Award has been the most prestigious award in Taiwan for 23 years. This year, there were 1,180 products from 498 companies selected for the accolade. The HORECA-0975 was recognized for superior innovation value based on five key indicators: R&D, design, quality, marketing, and "Made in Taiwan." This award demonstrates ARBOR's leadership and competence in technology, innovation and marketing capabilities.
The HORECA-0975 is a versatile POS system that combines the best features of a tablet, handheld and desktop. The tablet itself features barcode scanner, camera, WiFi and Bluetooth modules and is ideal for warehouse management. When the tablet is snapped onto the docking station, it becomes a desktop POS for front desk or tableside applications. The swiveling handheld terminal is a significant part of the system. The terminal's MSR and RFID/NFC functionality allow the unit to serve as a mobile POS for electronic ID and mobile payment transactions. The overall POS system aims to integrate the hardware devices, mobile transactions, electronic invoice and cloud-based service so as to address the specific needs of various vertical markets.
The HORECA-0975 has a 9.7 inch multi-touch screen with LED display, is based on an Intel Celeron® processor, and supports Microsoft Windows Embedded 8.0/8.1/10 operating systems.
The HORECA-0975 will be available in March 2016. For more information, please email us at
sales@arbor.com.tw