ARBOR Technology's 8" POS System Wins Best Choice Award at COMPUTEX 2016
The ARBOR G0830 8-inch POS system award in smart retail category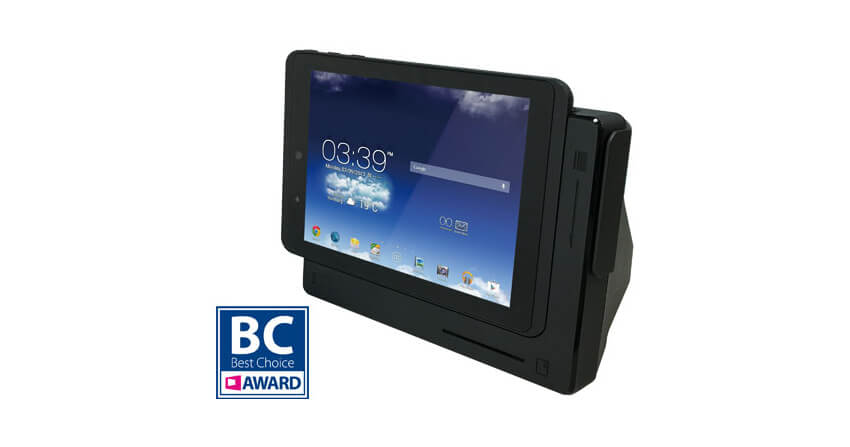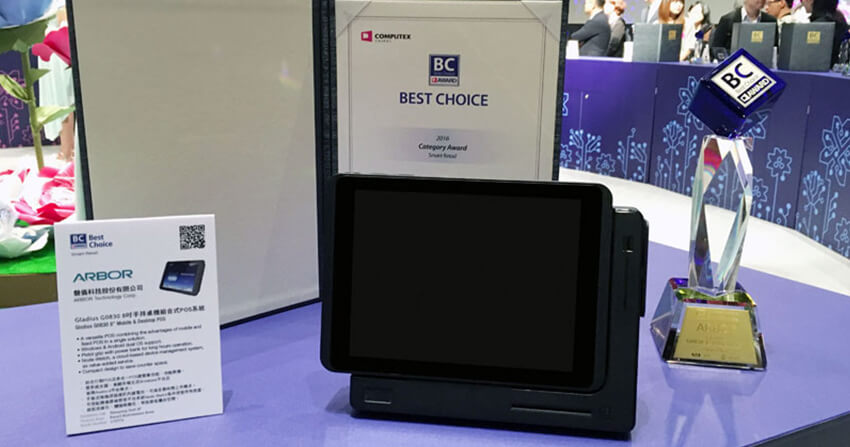 ARBOR Technology, a leading provider of embedded computing solutions, is proud to announce that its Gladius G0830 has been selected for the Best Choice Award at Computex 2016. The G0830 is a versatile POS system combining the advantage of both mobile and fixed POS in a single solution. Thanks to its ergonomic design, market-driven configuration and the concept of ecosystem services, ARBOR's G0830 8" POS system stands out from others and is awarded in the smart retail category.
The Best Choice Award is one of the most prestigious honors at the world's 2nd largest (largest in Asia Pacific) ICT procurement platform — Computex Taipei of which exhibitors exhibiting at COMPUTEX TAIPEI that year may apply. The G0830 was recognized for superior innovation value based on three judging standards: functionality, innovation, and market potential.
The state of the art G0830 8" Mobile & Desktop POS system is a versatile and cost-effective POS system that combines the best features of a mobile and fixed POS. The product has a sophisticated dual-OS platform to support both Windows-dominated markets and emerging Android markets. Designed as a total solution for a variety of POS applications, the G0830 comes with multi-functions including barcode scanner, Wi-Fi, MSR and NFC, as well as an ergonomic design for POS users, e.g., a pistol grip with power bank for long hour operation. The G0830 offers an optional cloud-based device management system– Node-Watch which is designed by ARBOR, providing businesses with convenient and cost efficient access to manage devices from a central admin console.
The award winning product will be exhibited at the Best Choice Award Pavilion and at ARBOR's booth at Computex at TWTC Nangang Exhibition Hall 4F, L1317a, from May 31st to June 4th.