ARBOR to Exhibit at InnoTrans 2016 in Berlin Germany
Hall 7.1b, Booth 303, 20th to 23rd of September
ARBOR Technology, a leading provider of embedded computing solutions, will be at InnoTrans 2016 in Berlin, Germany. From September 20 to 23 of 2016, ARBOR Technology is proudly exhibiting it latest Transportation technology and demonstrating the wide portfolio of relevant services at the booth.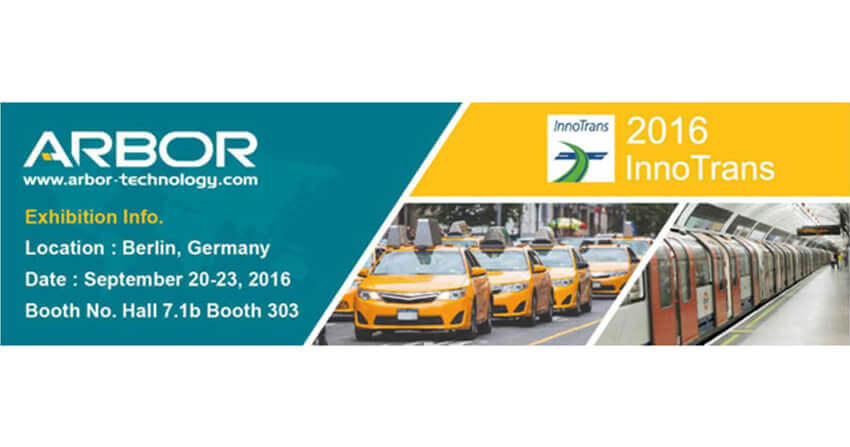 InnoTrans is the leading international trade fair for transport technology and takes places every two years in Berlin. We would like to invite you to our exhibition in hall 7.1b, stand No. 303, where ARBOR and our Germany partner BRESSNER will be demonstrating a broad range of total solutions for in-vehicles and public transport, as well as recent distinguished projects.
As the demand for Internet of Things applications, real-time information and Cloud management has been increasing rapidly, our offerings support up-to-date technology to align with the trend, and cover all kinds of components and elements of transport applications, including commercial fleet solutions, in-vehicle control, surveillance and digital signage.
ARBOR and BRESSNER are confident you will find what you need! Please visit us at the booth, our on-site representatives will be pleased to assist you with more information and service. To contact with us, email us at
sales@arbor-technology.com