ARBOR ASLAN Series Wide-Screen Industrial Panel PCs for intelligent Factory and Other Fixed-Mount Applications
The ASLAN panel tends to the HMI via an excellent full-HD IPS screen with 10-point capacitive multi-touch, as well as extended M2M connectivity via three separate LAN interfaces and both USB 3.0 and serial legacy support.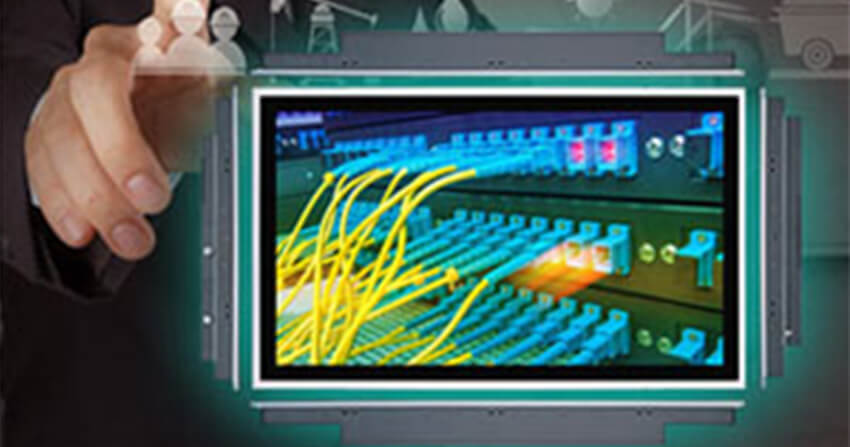 ARBOR has released the ASLAN series panel PC to paid extra attention to tasks such as connecting facilities, collecting data streams from various sources, and controlling production processes in accordance with both current and evolving Industry 4.0 applications where intelligent networked systems go beyond mere machine control via feedback systems, interdisciplinary cooperation, IoT technology, and advanced resource/demand management to morph into "intelligent" or at least "smart" factories.
The ASLAN Series of industrial wide-screen panel computers from ARBOR Technology is available in three models with 15.6, 18.5 and 21.5 inch displays. The overall design of the ASLAN panel is clean and simple, with no controls or indicator lights on the front at all. The left side provides access to the unit's two storage media bays. The other three sides are unadorned.
All I/O is on the back of the ASLAN. The I/O block provides four full-size USB ports, three of the 2.0 variety and one of the newer and faster 3.0 standard. There are three RJ45 jacks, four standard DB9 serial ports, two of which are straight RS232 and two RS232/485 with auto flow control, and a DVI-I connector. There's also a three prong power connector for 9 to 36 Volt DC, and a simple on-off switch.
While the optimal design and configuration of Industry 4.0 hardware componentry may not have fully emerged just yet, ARBOR is likely on the right track by equipping ASLAN panels with three independent RJ45 LAN interfaces to simultaneously allow remote terminal connections, M2M communication, as well as supporting company intranet and cloud connectivity. Using modern capacitive multi-touch helps on the human side of things, and still providing a quartet of legacy COM ports makes sense as well, as not all tech advances at the same pace.
To read or download the complete article, click
here
.
* This is an excerpt from a review by Conrad H. Blickenstorfer from RuggedPCReview.