ARBOR Introduces the Gladius G1052C, an Upgraded 10.4" Rugged Tablet with Intel® Celeron® Processor
With the upgraded performance improvement, rich I/O and connectivity, and extensive data collection capabilities, the G1052C is perfect for highly mobile applications such as warehousing, logistics and mobile point-of-sale.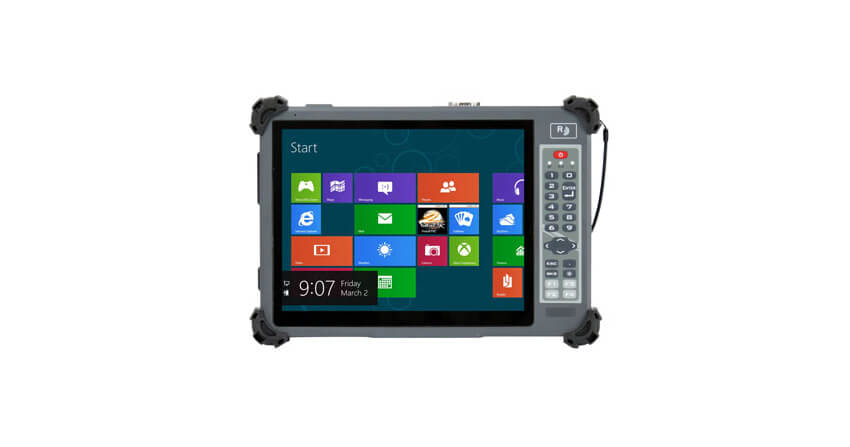 ARBOR Technology, a leading provider of embedded computing solutions, has launched the ARBOR Gladius G1052C 10.4 inch rugged tablet PC to complement its growing lineup of mPOS, warehousing and logistics tablet PCs. The G1052C, powered by an Intel® Celeron® N2930 quad-core processor, is an upgrade to the previous G1050 version in performance and specification improvements. Based on the Intel Bay Trail platform, the product gives improved CPU performance, outstanding graphic processing and ultra low power consumption.
The fanless, lightweight, yet sturdy G1052C has a 10-point projected capacitive touch screen with Corning® Gorilla Glass. In addition to the large touch operation interface, the G1052C has a 23-key physical keypad that includes four programmable function buttons for rapid manual data entry. In addition, the 10.4'' AFFS+ TFT Active Matrix display with 1024 x 768 XGA resolutions offers a better visual experience. If needed, the G1052C comes in a sunlight-viewable version with an 800 nit backlight.
The new tablet includes a variety of data collection and identification technologies and modules. The G1052C comes with an integrated 1D/2D barcode scanner, an ISO 15693/14443A/14443B RFID/NFC reader, magnetic stripe reader (MSR), as well as a 5-megapixel auto-focus camera. The product's multiple wireless communications, includes WiFi, Bluetooth™, WLAN, WWAN and GPS, facilitating real-time data transfer and processing.
As a fully rugged device, the G1052C meets MIL-STD-810G military standards, offers IP54 ingress protection, and an impressive 4 ft. drop resistance. With its solid rubber bumpers, the tablet provides maximum impact protection for any deployment. Thanks to its hot-swappable dual battery packs and long 8-hour battery life, the G1052C never needs to be powered down on the job.
The G1052C is available with various Windows 7 and 8 and 8.1 OS platform versions, and is equipped with a hand strap on the back side.