New ARBOR COM Express Compact module with single-chip Intel® Core™ i7-4650U processor
Taipei – ARBOR Technology, a leading provider of embedded computing solutions, announces the release of the EmETXe-i87U2 COM Express Compact module supporting 4th Generation Intel® Core™ processors. It is a low-power single-chip solution, codenamed "Haswell-ULT", with integrated chipset (PCH) and graphics. Despite increased performance, the maximum thermal design power (TDP) is a mere 15 watts.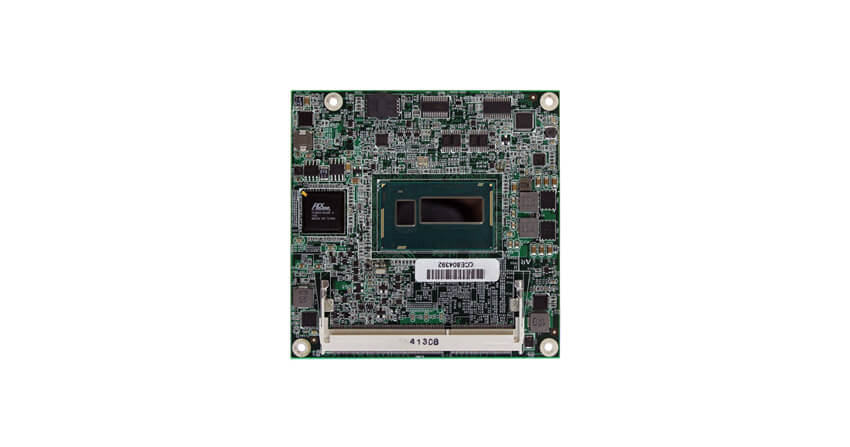 The 4 th Generation Intel® Core™ processors are an optimization of the existing micro architecture. Improvements include new microcode and extended registers, an expansion of the vector processing unit, larger and much more powerful graphics units, as well as standard hardware support for AES encryption in all models. Unique features of the Intel® Core™ i7-4650U are revised power management; expanded, individually configurable turbo-boost modes and extensive TDP configuration management for adapting to the chosen cooling solution. Models of the Haswell U-Series integrate the processor controller hub (PCH) as multi-die in the same package. Compared to previous Core™ i processor models, such as the i7-3517UE, it is possible to save not only 2 watts of TDP, but also approximately 4 watts previously required for the separate PCH solution. Further savings come from the new voltage regulator units which are also integrated in the housing. In total, power consumption is about a third lower compared to the previous generation.
The EmETXe-i87U2 can currently be equipped with the embedded dual-core single-chip processor Intel Core™ i7-4650U. The appropriate chipset is integrated in the housing. The module supports fast and energy-efficient dual-channel DDR3L memory up to 16GB.
The integrated graphics is considerably more powerful than preceding versions and supports Intel® flexible display interface (FDI), DirectX 11.1, OpenGL 4, OpenCL 1.2 and high-performance, flexible hardware decoding to decode multiple high-resolution full HD videos in parallel. 4K resolution with up to 3840 x 2160 pixels for DisplayPort is natively supported. It is also possible to connect up to three independent display interfaces via HDMI, LVDS and embedded DisplayPort (eDP). When using DisplayPort, the individual displays can be daisy chained to take advantage of simple wiring. Native USB 3.0 support provides fast data transmission with low power consumption. A total of eight USB ports are provided, two of them support USB 3.0 Super speed. Eight PCI Express 2.0 lanes, three SATA ports with up to 6 Gb/s and a Gigabit Ethernet interface enable fast and flexible system extensions. Active fan control, LPC bus for easy integration of legacy I/O interfaces, Digital I/O and Intel® High Definition audio complete the feature set.
The strength of this new COM Express compact module lies in the flexibility and scalability of the graphics and processing power; and superior performance within a maximum TDP power envelope of 15 watts. All of this makes the EmETXe-i87U2 an ideal solution for high-performance mobile systems.