Noiseless Patient Infotainment Terminal Realized Using the Intel® Atom™ Processor N2800
ARBOR technology announced the brand-new patient infotainment terminal - M1858, which comes with the new Intel® Atom™ processor N2800 and maximum 2GB DDR3 SO-DIMM memory, which provides better system performance and stability while saving power.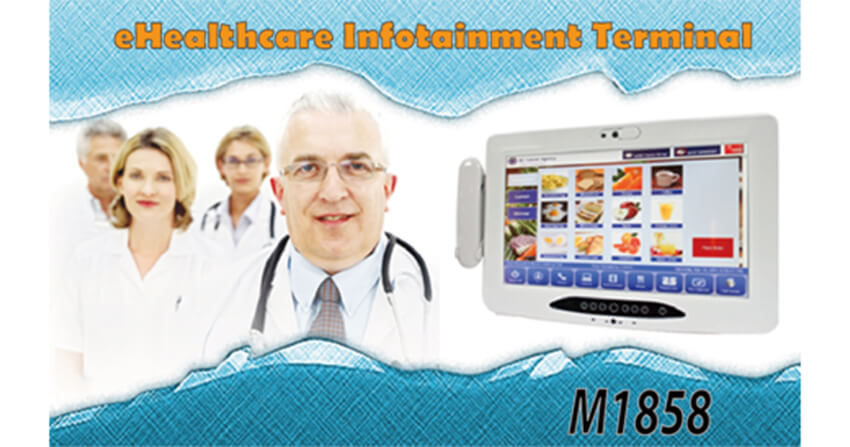 With the Intel Atom processor N2800, the M1858 offers enriched video playback such as H.264/ AVC, MPEG-2, VC-1, WMV, MPEG-4, DviX, Xvid and AVS with the accelerated hardware decodes technology. A TV tuner card is also available for TV display, users can also watch TV or play video games through M1858.
Featuring fanless operation, the M1858 provides a reliable platform and noise-free environment as designed primarily for patient care application. The touch screen and programmable membrane keys are designed for ease-of-use and can be cleaned with alcohol. Also, the lifetime guarantee anti-bacterial mechanical design offers M1858 lifetime guarantee to protect against Escherichia coli and Staphylococcus Aureus.
Except all standard functions and interfaces, the M1858 also integrates with a wide variety of devices for identification including 2D barcode scanner, RFID reader, dual slot smart card reader, 5.0 megapixels CCD camera and VOIP phone while providing multi-connectivity such as Ethernet, Bluetooth and Wi-Fi. Through these convenient functions, medical personnel can near-field access a patient's record, medication data, and radiology information to shorten data checking time.
The M1858 provides an ideal healthcare and infotainment platform for both clinicians and patients. It helps clinicians to improve workflow management and work efficiency, reduce human error, and enhance healthcare quality. For patients, the M1858 provides a more comfortable environment where they can easily access external contacts, information and entertainment services while confined to bed.