Samsung Implements Arbor's T Series at their Gwangju facility
Efficient cost effective manufacture of modern day white goods requires tight process and inventory control. In order to achieve their goals Samsung's Gwangju white goods plant located in South Korea has chosen to partner with Arbor Technologies to provide a solution based on Arbor's T series Industrial Panel PC.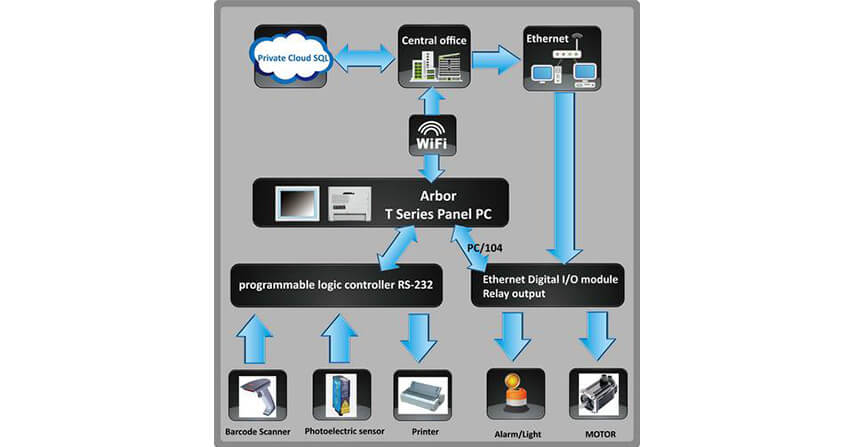 A key aspect of selecting the T series was Arbor's ability to understand Samsung's requirements and integrate into the T series additional Digital I/O, Comms, and USB ports. The advanced design of the T series uses a Qseven processor module which provides a future proof upgrade path for the CPU. The Standard T series implements an Atom N270 but Arbor improved the processing capabilities by using an Atom N2600 dual core Atom Qseven module.
Integral to the design was the ability for Samsung's central office to connect to the plant via a cloud server. Commands are sent to multiple T series Panel PCs controlling the plants critical motor control and alarm systems. The ability for the T series to support both Ethernet and Wifi provided the central office with a redundant communications system allowing the production line to continue when either ethernet or Wifi became unavailable.
"Enhancing the digital I/O of the T series increases the monitoring of critical motor and alarm functions so as the Gwangju plant increases its needs, the T series can meet the growing demands." said Ted Cho, Arbor's project director. "Our goal at Arbor is to not to sell a system and move on. We are genuinely interested in the future of our partners business and we want to be a part of that future by supplying reliable and relevant solutions to meet our customers needs.