Hyundai Motor Implements ARBOR's TOKIN Series for Production Networking
The eCloud networking infrastructure of factory automation requires controlling terminals to connect and access real-time data for production management. In order to work efficiently with high quality, in a great quantity and with low cost, South Korean multinational automaker Hyundai Motor Company has constructed an intelligent eCloud networking system for automobile production with ARBOR's TOKIN Series Panel PC.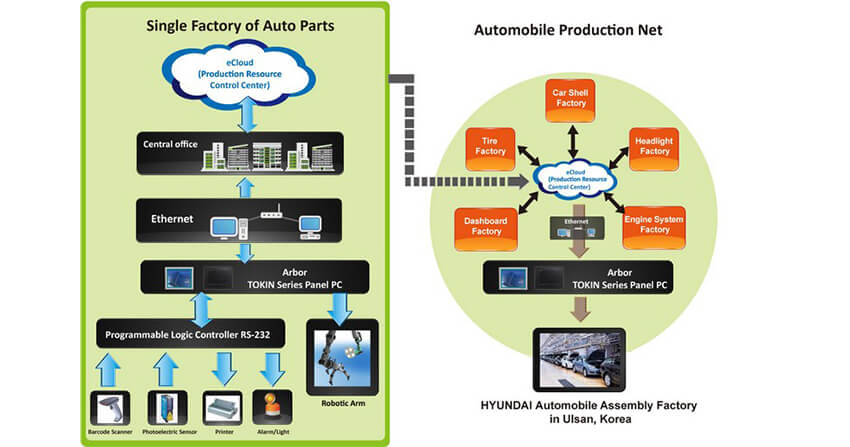 At the world largest automobile plant, located in Ulsan, South Korea, Hyundai Motor Company has built up a production resource plan system to integrate data from multiple factories of auto parts into the central eCloud. Each factory is equipped with TOKIN Series panel PCs as data terminals, managing the production resources through their internal Ethernet connections. The data is then dynamically synchronized to the eCloud. Finally, the Ulsan Plant of Hyundai Motor acquires the data via TOKIN Series Panel PCs to make the assembly plan. With the assistance of ARBOR solution, the smart automobile production net enables Hyundai Motor to supervise its manufacturing processes for an accurate launch and shipping schedule.
In consideration of factory application, ARBOR's TOKIN Series Panel PC focuses on durability and a user-friendly interface. The TOKIN Series has a seamless resistive touch panel covered with a flat membrane with IP65 dust and water resistant protection. In addition, buttons on the front allow users to easily turn on/off the screen and also power on/off the embedded system. Its fanless design is another feature that promises better durability and longevity to prevent production lines from malfunction issues caused by dust falls.
ARBOR's rugged industrial panel PC, TOKIN Series, provides an upgradable platform with Celeron 827E or Atom D2550 CPU module designs for flexibility selections. By integrating various I/O such as Serial Port, USB Port, Ethernet LAN Port and DVI-I, TOKIN series satisfies any factory's needs of data connectivity. Besides, its industrial designs of +9~+36V wide voltage power support and up to 60°C operating temperature extend its use in harsh environment.
With years of IPC experience, ARBOR achieves Hyundai Motor's goal of an intelligent network of car production. ARBOR's goal is not to sell a product, but to offer a total solution with long-term partnership.