ARBOR Extends ARES Product Line with a Multi-port Fanless Controller for Automatic Fare Collection Systems
Modular ARES-1231 Box PC features 16 COM ports, 16 DIO ports, dual Gigabit Ethernet LANs and dual display support.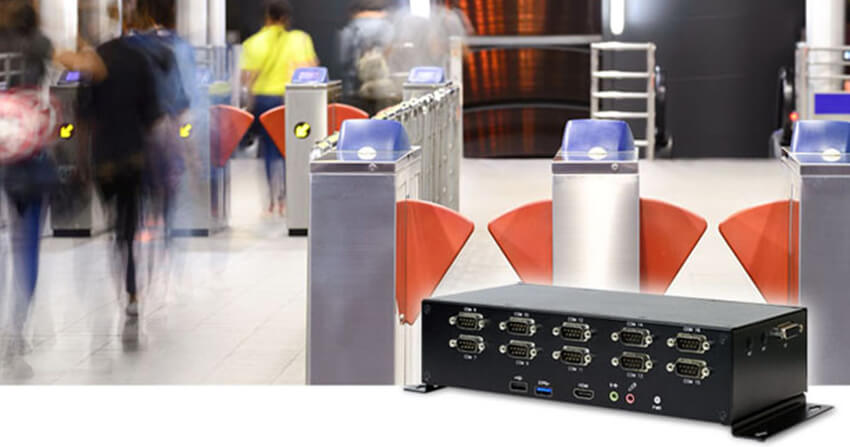 ARBOR Technology, a leading provider of embedded computing solutions, has announced the ARES-1231 industrial embedded controller as an addition to its automation product line. The industrial-grade Box PC is based on the quad-core Intel® Celeron® N2930 processor and supports up to 8 GB DDR3L SO-DIMM memory. Its extensive, customizable I/O capability enables interconnection with a large number of devices, sensors and ancillary equipment. The highly configurable ARES-1231 offers 16 COM ports, 16 DIO ports, six USB, dual Gigabit Ethernet LAN, and dual displays via HDMI and DVI.
The ARES-1231 Box PC meets customer demand worldwide. Thanks to its modular I/O design, durability, and reliable performance, the ARES-1231 has already been successfully deployed in gas station POS applications as well as in a major train station gate ticketing project.
The ARES-1231 compact, fanless embedded Box PC was designed to serve as AFC (Automatic Fare Collection) controller in automatic gate machines, ticket checking and vending machines. There are ample I/O ports to support multiple ticket gate controllers, assorted routers, audio systems and information displays. The device also comes with an RJ-11 port for extended connectivity.
As an industrial-grade Box PC, the ARES-1231 PC has a wide operating temperature range from -20 ~ 60°C, and operates on 12V DC input. It supports mSATA, has a 2.5" SSD drive bay for storage, and includes a half-size mPCIe socket for additional expansion.
Key Features:
Intel® Bay Trail SoC platform
Fanless design
1x DVI-I and 1x HDMI connectors
16x COM and 16x DIO
1x USB 3.0/2.0 and 5x USB 2.0
4x RS-232/422/485 w/ 5V/12V DC (DB9, DIP switch selectable); 12x RS-232/485