ARBOR Wins Taiwan Excellence Award 2017 for the Consecutive Year
ARBOR Technology, a leading provider of embedded computing solutions, is proud to announce that four of its state-of-the-art products that were honored with "Taiwan Excellence Award 2017" for the consecutive year. The award-winning products include 8" Mobile & Desktop POS, High Flexibility Modularized Rugged Box PC, 2K/4K Six-Display Digital Signage Player and Ultra-Compact Digital Signage Player. ARBOR was awarded for its innovation and market orientation capability.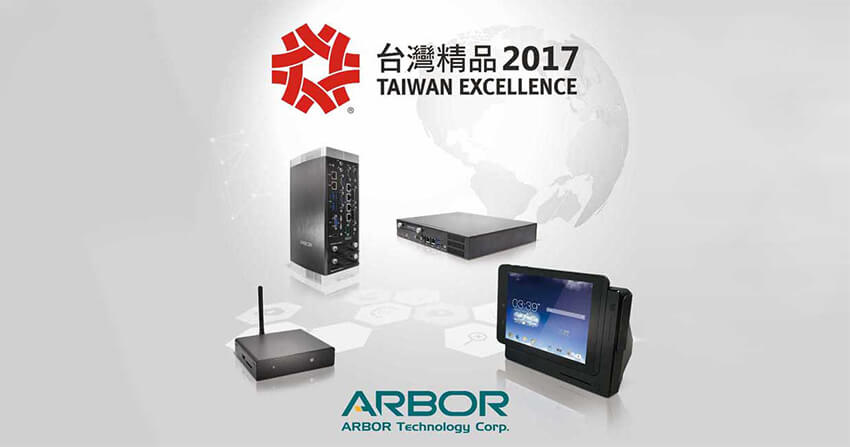 The Taiwan Excellence Award has been the most prestigious award in Taiwan for 25 years. According to the organization, among 518 participating companies and 1,188 competing products, there were 528 products from 230 companies selected for the accolade this year. ARBOR's winning products were recognized for superior innovation value based on five key indicators: R&D, design, quality, marketing, and Made in Taiwan. The award is a proof to ARBOR's focus on the user experience and market demand, as well as competence in technology, design and marketing.
8" Mobile & Desktop POS
The Gladius G0830 is a compact yet versatile point-of-sales system solution combining the advantage of both mobile and fixed POS. Featuring the design of a detachable tablet, the G0830 greatly reduces installation costs and the space required, and thus greatly enhancing mobility and flexibility. The product has a sophisticated dual-OS platform to support both Windows-dominated markets and emerging Android markets. The G0830 tablet POS is a perfect fit for retail, warehousing and hospitality, managing several key tasks such as inventory management, payment processing, customer data gathering and staff tracking.
High Flexibility Modularized Rugged Box PC
The ARES-1970-E is a full featured industrial PC features high performance, ruggedness, high expansion capability. Thanks to its modularity and ruggedness, the ARES-1970-E can be used in various tasks in harsh environments such as security, ground defense and water resource surveillance. The industrial-grade Box PC comes with a wide variety of I/O interfaces, and four GbE PoE ports for industrial vision applications. ARES-1970-E adopts modular design to provide customers with the maximum expansion capability.
2K/4K Six-Display Digital Signage Player
The ELIT-1900 is an ultra-slim digital signage player with Intel 6th-gen Skylake CPU, and supports 4K display for commercial environments. Based on 6th Gen. Intel® Core™ i-series processors, and coming with an AMD E8860 GPU, the unit delivers outstanding processing performance and immersive graphics. The ELIT-1900 supports six independent display outputs simultaneously via HDMI or DisplayPort to enable a vibrant visual experience with 4K graphics and multimedia features, making it ideal for commercial environments including retail, hospitality and public services.
Ultra-Compact Digital Signage Player
The ELIT-300 is an Android-base Digital Signage Player with ARM® Cortex™ Architecture. Measuring only 115 X 120 mm and weighing less than 400g, the very compact ELIT- 300 fit virtually anywhere. The 4K/2K digital signage player comes with free bundled EZpost editor, enabling users to conduct content editing, scheduling and content publishing easily. In addition, the ELIT-300 can be managed locally via a local area network or remotely via cloud-based digital signage content management server from ARBOR's CMS product line.