New ARBOR Qseven CPU module with single-chip, quad-core Intel® Pentium® N4200 / dual-core Celeron® N3350 processor
ARBOR Technology, a leading provider of embedded computing solutions, announces the immediate availability of the EmQ-i2401 Qseven module, based on the new Intel® Pentium® / Celeron® processors (Intel® codenamed Apollo Lake). Based on this new premium class low-power design, the robust Qseven modules consume, on average, just 6 watts while providing increased graphics capabilities and overall performance. Up to 12 graphics execution units can support up to three HD displays or two 4k displays.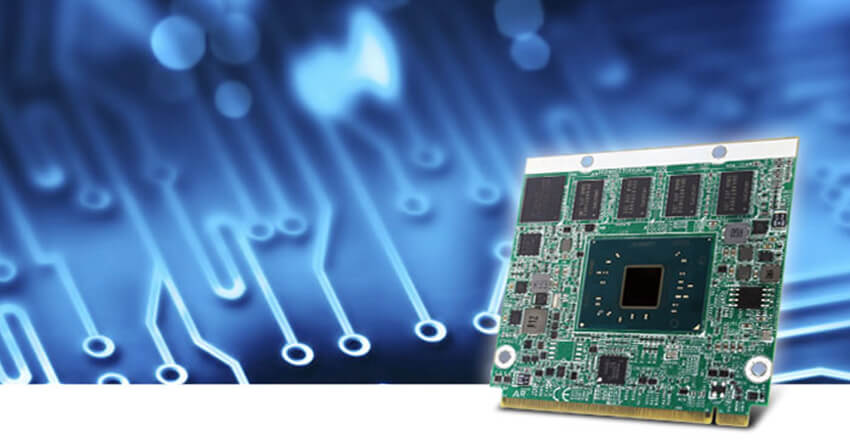 The modules support Intel® Advanced Encryption Standard New Instructions (Intel® AES-NI) set, which is more relevant than ever in practical application. This allows developers to offload particularly compute-intensive packaging and encryption routines of the well-known cryptographic algorithm AES (Advanced Encryption Standard) into hardware, thereby enabling high performance encryption without putting a significant burden on the CPU cores.
The EmQ-i2401 module comes in three different processor versions (Intel codename Apollo Lake) for high scalability. These range from the entry-level dual-core Intel® Celeron® N3350 with 1.1/2.6GHz to the quad-core Intel® Pentium® N4200 with 1.1/2.5GHz, each with a power consumption of 4 watts for standard applications (SDP = Scenario Design Power).
The Qseven module is equipped with up to 8GB DDR3L memory and up to 64GB eMMC 5.0 for mass storage. The enhanced integrated Intel® HD Graphics 505 supports DirectX 11.2, OpenGL 4.4 and OpenCL 1.2/2.0. The new high-performance, hardware-accelerated video decoding of H.265/HEVC and H.264/AVC, making it possible to stream 4K videos in real time.
Up to 4K (3840 x 2160 pixels) resolution is supported by either DisplayPort or HDMI interfaces. In addition the EmQ-i2401 module has a default 24bit LVDS interface. The Qseven specification includes an optional pinout which replaces the LVDS interface by two sets of Embedded DisplayPort signals.
Thanks to native USB 3.0 support, the EmQ-i2401 module provides fast data transmission despite low power draw.The modules contain two USB 3.0 Super-Speed ports and four USB 2.0 ports with Hi-Speed data transmission. Four PCI Express Gen2 lanes and two SATA interfaces with up to 6Gb/s enable fast and flexible system extensions. The Intel® Ethernet Controller i210 guarantees the best software compatibility. Completing the feature set are: one UART interface, I2C bus, LPC bus and SDIO for easy integration of legacy I/O interfaces and Intel® High Definition Audio for Pentium® N4200 / Celeron® N3350 processors.
The EmQ-i2401 will be officially released in May; please contact local sales support.
The following CPU variants are supported by the module:
| | | | | | | | | |
| --- | --- | --- | --- | --- | --- | --- | --- | --- |
| COM/Processor | Cores | Cache [M] | Clock [GHz] | Onboard Memory | Onboard eMMC | CPUSDP/ TDP [W] | Brand | Remark |
| EmQ-i2401-N4200-4G | 4 | 2 | 1.1 – 2.5 | 4GB | - | 4/6 | Intel® Pentium® | |
| EmQ-i2401-N3350-4G | 2 | 2 | 1.1 – 2.6 | 4GB | - | 4/6 | Intel® Pentium® | |