ARBOR's PC1015 Price Checker Selected to Enhance Customer Experience in Poland
The compact, easy-to-install Android-based PC1015 offers low power consumption, rich wireless communication and customizable I/O boards
ARBOR Technology, a leading provider of embedded computing solutions, is pleased to announce two successful deployments of its 10.1-inch Android-based PC1015 price checking terminal in Poland. ARBOR PC1015 price checker systems were implemented both at stores of a local supermarket chain and at a worldwide sports gear & equipment chain store. In addition to quickly displaying product and price information, the price checking terminals also assist in customer retention management and provide tailored services such as alerting customers to promotional offers.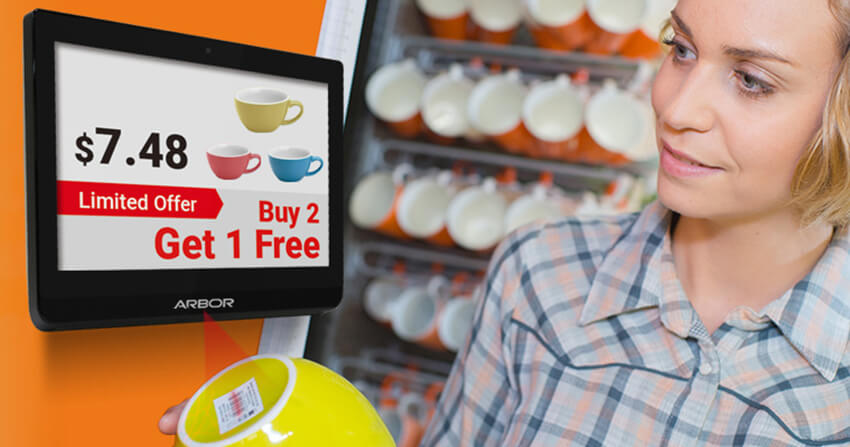 Delivering Better Self-service Experiences for Customers
Equipped with barcode scanning technology and convenient 10-point projected capacitive multi-touch displays, PC1015 terminals provide shoppers not only with product pricing lookup, but also full product information as well as product comparisons and available inventory. Their compact design allows retailers to install PC1015 terminals in aisles or shelves throughout their stores. ARBOR PC1015 delivers the ultimate in self-service, helping customers make purchase decision more easily while at the same time optimize workforce efficiency.
Implement as an Informative Tool for Promoting Sales
Apart from simple price checking, the versatile ARBOR PC1015 also provides extensive digital signage functionality. By running ads and promotional videos in pre-programmed intervals, retailers can better engage shoppers into their retail environment. Via barcode scanning, customers may enter their member ID to get coupons, benefit from special product discounts, lookup gift card balances, call for assistance, and more.
Build Your Own System upon Request
The PC1015 offers various I/O board and module configurations to allow customers to build their systems to meet their special needs via ARBOR's CTOS service. Available are RFID & NFC modules, 1D or 2D barcode scanners, WiFi, Bluetooth 4.0 + BLE and a 2MP front-facing camera. Please contact your local sales representative, or email ARBOR at
sales@arbor-technology.com
Key Features
Quad-Core ARM Cortex-A7 CPU 1.3G Hz, Android-based
10.1" 1280 x 800 LCD display
10-point Projected Capacitive Multi-Touch
H.265/HEVC Video Decode
PoE connectivity (PD)