The Power of Edge AI League in ARBOR
The global embedded IoT market leader, ARBOR Technology, introduces our Edge AI Series Computers, a power-packed, feature-loaded set of embedded computers designed to support machine vision and edge AI computing applications.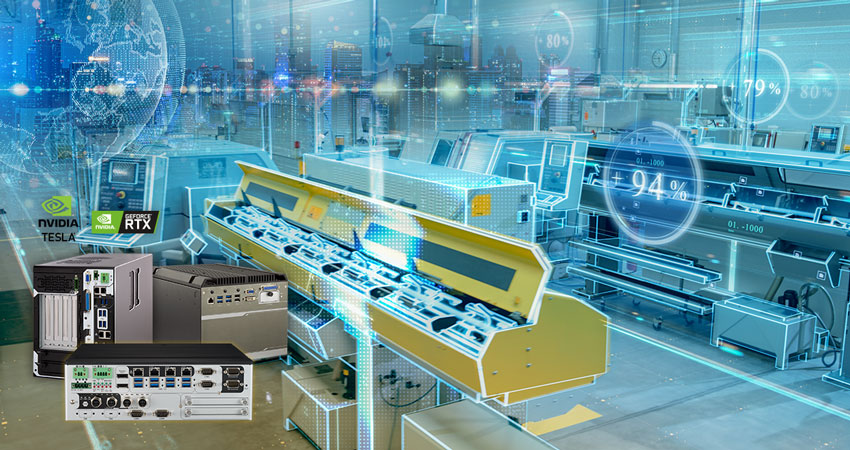 FPC-521X Series: Powering the Next Wave of Machine Vision and Edge AI Era Intel® Alder Lake Platform and DDR 5 Module
The edge AI computer
FPC-521X Series
is available for Intel
®
12th Gen. Core™ i9, Core™ i7, Core™ i5, and Core™ i3, offering robust processing capabilities for high-speed, real-time data processing. Additionally, it is available equipped with DDR5-4800 SODIMM modules.
Lower Latency
An important feature of the FPC-521X Series is the provision of an Intel® AX2XX Wi-Fi 6 module and 2.5GbE for LAN connection. This high-speed connectivity tool enhances the device's communication capabilities, essential for real-time data transmission in edge computing scenarios, and decreases internet latency at the same time.
MXM 3.1 Platform for Machine Vision
Machine vision applications, from quality control in manufacturing to surveillance systems, can benefit from the NVIDIA® Quadro® Embedded slot, available in A2000/A4000 variants. These high-powered graphics units ensure seamless image and video processing, which is essential for machine vision systems. These potent graphics units ensure seamless and high-speed image and video data processing, fundamental for any machine vision application.
Power and Performance Meet Durability: ARBOR's FPC-9108-P6-G3 Ruggedized AIoT Computer
Powerful Industrial IoT Computer
FPC-9108
enables to share the workloads at the edge. It comes with Intel's 10th Gen processor and one PCI-E 16x expansion slot. It is designed for 350W GPU graphic card to enhance edge computing and AI inferencing applications.
Upon users' applications, users can choose FPC-9108-P6-G3 or FPC-9108-L2-U4-G3 model. The embedded controller FPC-9108-P6-G3 with 6 POE connectors, then users can connect 6 POE cameras for machine vision applications. With an emphatic graphic card and 6 PoE devices, machine vision applications will have high transmitting speed and raised accuracy. Both Box PCs are built-in 2.5 GbE LAN ports and USB3.2 Gen 2 ports for higher transmission speed and powerful performance.
This industrial edge AI computing platform is set to revolutionize on-device AI experiences. With the shift towards edge computing, devices can now locally process data, eliminating the need to send data to the cloud for inferencing and prediction. This results in quicker response times and enhanced operational efficiency. It's particularly beneficial for sectors like transportation and automation, where milliseconds matter and real-time decisions are crucial.
Revolutionizing Industrial Applications: ARBOR's New Ruggedized AIoT Computer, FPC-8108W-G1, Takes Center Stage
With the ever-evolving technological landscape, ARBOR technology stays ahead of the curve with the introduction of
FPC-8108W-G1
, Rugged AIoT computer championing edge computing. As showcased in previous models like the FPC-8109-G1, ARBOR continues to push the boundaries by integrating advanced AI capabilities. This empowers industries to streamline their automation processes while minimizing data traffic. The FPC-8108W-G1, fortified with these features, is set to redefine AIoT applications by providing real-time solutions at the source.
The Most Suitable Solution for Factory and Smart Cities
The era of AIoT and smart cities has created a demand for advanced edge AI computing solutions. Recognizing this need is the reason why ARBOR Technology developed the FPC-521X Series, FPC-9108 Series, and FPC-810X Series an innovative series of edge AI computers packed with powerful, efficient features to support edge computing applications.
IoT and automation manufacturing has been a global industry trend in recent years and a direction that ARBOR has constantly strived toward. Adapting to industrial environments for 24/7 operations and providing actionable intelligence for improving operational efficiency and interpretation in Automation Manufacturing, Transportation, Healthcare, Gaming, Military, Smart Cities, and Retail.