ARBOR Upgrades Its 18.5" Bedside Infotainment Terminal
The upgraded M1858C features a flush front bezel ID design, and a 10-point projected capacitive multi-touch display.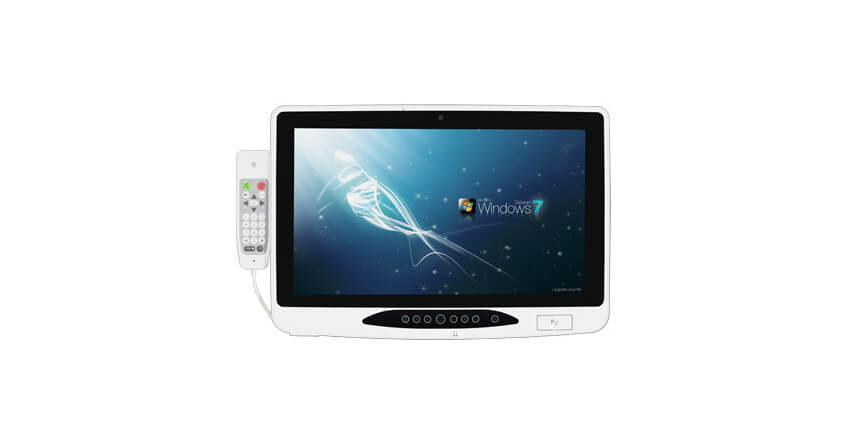 Taipei – ARBOR Technology, a leading provider of embedded computing solutions, announced an upgrade in front-bezel design and touch screen for its M1858C, an 18.5 inch bedside infotainment terminal. The M1858C is designed not only as a patient entertainment platform, but also as an effective clinical tool. The new flush front bezel presents a flat surface, which is easier to clean compared to a traditional bezel design that has crevices where dirt and germs can get caught.
The M1858C is based on the dual-core Intel® Atom™ processor N2800 at 1.86 GHz with Intel® NM10 express chipset, and a 1366 x 768 (WXGA) TFT LCD display with a 1000 nit backlight that delivers the sharpest quality image. Its user-friendly GUI with a 10-point flush-mounted projected capacitive screen offers a high-quality image display. This gives medical staff bedside access to patient and hospital information, which increases work efficiency. In addition, it provides patient entertainment such as Internet access, video/TV watching, access to games/social networks, and a webcam to relieve anxiety during their stay.
There is no doubt that a safe and clean environment is vital for patient care. The M1858C features a noise-free fanless design, an IP-65 rated front panel with waterproof and anti-bacterial characteristics, as well as a flush front bezel to minimize cross contamination risks. In addition, the terminal is compliant with IEC60601-1 (3rd edition), EN60601-1 (3rd edition) and EN60601-1-2 standards to support user safety.
To further enhance security and safety, the terminal is equipped with a smartcard slot and a 5.0 megapixel front-facing camera that includes a privacy cover to protect sensitive assets and safeguard a patient's personal information. Optional features include a 1D/2D barcode scanner and an integrated RFID reader that helps to restrict access to sensitive patient data. Moreover, the M1858C comes with an optional remote controller to enable patients, via a call button, to alert the healthcare professional in an emergency. Nurses or caregivers can also communicate with patients faster through the M1858C's WLAN 802.11 a/b/g/n and Bluetooth 4.0 capabilities, and provide or collect real‐time patient information.
Supported operating systems include Windows Embedded Standard 7 (WS7P) and Linux: Ubuntu / Fedora. The M1858C is available worldwide with power configuration to meet your country's requirements.
Please contact your local sales representative for more information, or email us at
info@arbor.com.tw