ARBOR Launches New ARM-based 10.1" Medical Terminal for Healthcare and Kiosk Applications
ARBOR Technology, a leading provider of embedded computing solutions, is delighted to announce the release of M1016 – a new 10.1" medical touch terminal in its bedside infotainment series. Powered by Quad-Core ARM Cortex-A35 CPU, the Android ready M1016 is fanless in design and features low power consumption, making it a perfect solution for beside infotainment and medical thin-client applications. To satisfy the needs of healthcare industry, the M1016 is also IEC & EN 60601-1 and 60601-1-2 certified.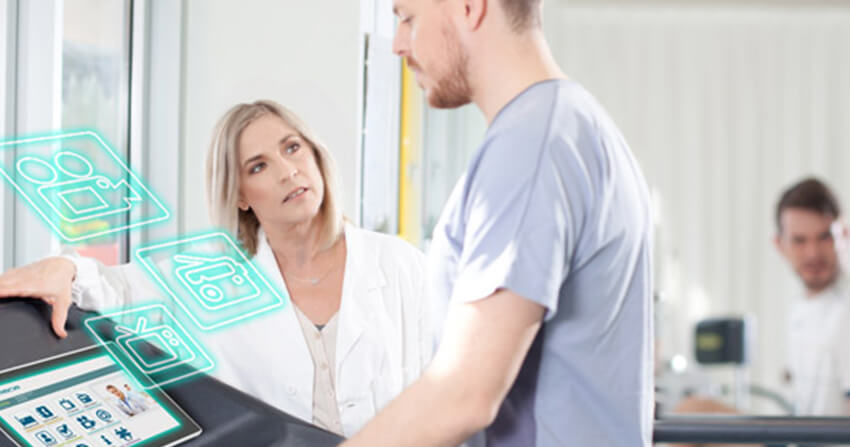 Enhanced Processing and Graphic Performance
Building on the success of previous medical terminals, the new ARM-based M1016 boosts higher computing and GPU performance than its predecessors to satisfy the strong demands for faster medical communication systems in healthcare segments. The ARM Mali-G31 GPU features ultra efficiency to bring the best possible multimedia experience, allowing it to improve patient's hospital experience during their stays. It can also be used by medical staff as an e-health system to enhance working efficiency. Via the multi-touch interface and network capabilities, electronic patient records can be accessed at your fingertips. Plus, through the integrated RFID/NFC reader, healthcare organizations can build a modern identification system for accessing patient records.
Versatile Peripherals in a Compact Enclosure
All the featured peripherals, including an embedded 2MP camera, speaker, earphone jack, microphone, SD card socket and RFID & NFC reader, are integrated in a compact slim and modern enclosure with a light weight of only 623g. It can be easily installed in bedsides or nursing cart equipment through the VESA mount. It also comes with POE capability, where a single cable can provide both data connection and electrical power to reduce costs of wiring and installation. To facilitate flexibility in terms of system development, the RISC-based M1016 supports Linux Debian in addition to Android OS.
Success of the collection's previous models
For years ARBOR's bedside infotainment terminals have been trusted by our customers to better engage their patients. The preceding M1014, preloaded with the TMM software, has been deployed in a modern pediatric ward in Australia. The model has also been deployed in a dialysis center as a healthcare teleconsultation platform. Compared with preceding model, the M1016 delivers higher processing power and enhanced specification. It can better address the diverse infotainment needs in today's healthcare field.
Extended Applications
Apart from medical applications, the M1016 can also be used in wide variety of information kiosk applications, such as a fitness entertainment terminal or an interactive kiosk terminal. For example, with its lightweight, slim-profile design, and high performance with low power draw, the preceding model of M1016 has been chosen by one of the world's major airports in Southeast Asia as a passenger information terminal.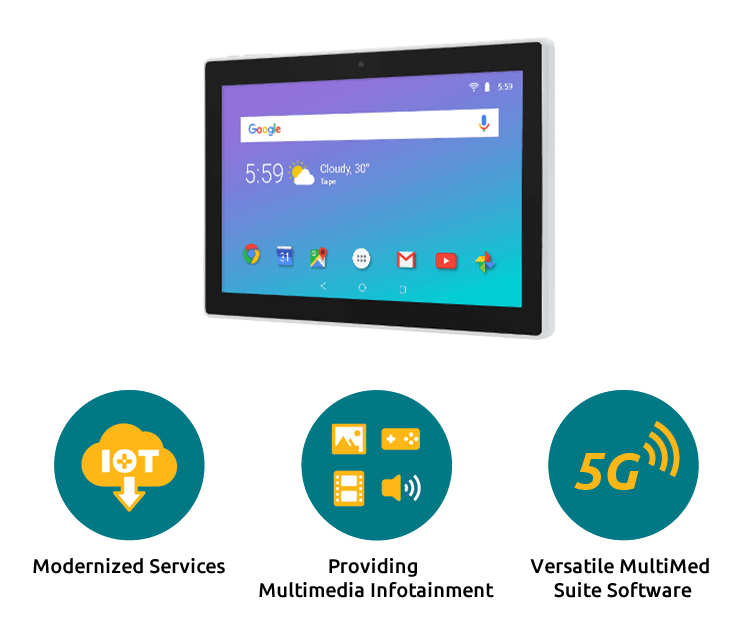 Features
Quad-Core ARM Cortex-A35 CPU 1.5G Hz, Android-based
Bedside infotainment and medical thin-client application
10.1" LCD display
10-point Projected Capacitive Multi-Touch
Support Android 8.1
H.265/HEVC Video Decode
IEC & EN 60601-1 (Edition 3.1) and IEC & EN 60601-1-2 (Edition 4th) certified