ARBOR Launches the Android-Based Price Checking Terminal PC1017 for Retail and Hospitality Markets
ARBOR Technology, a leading provider of embedded computing solutions, is pleased to announce the release of PC1017 – a new 10.1" RISC-based multi-touch computer designed to streamline customer self-service in areas such as price checking, access control and self check-in/out for retail, grocery stores and hospitality sectors.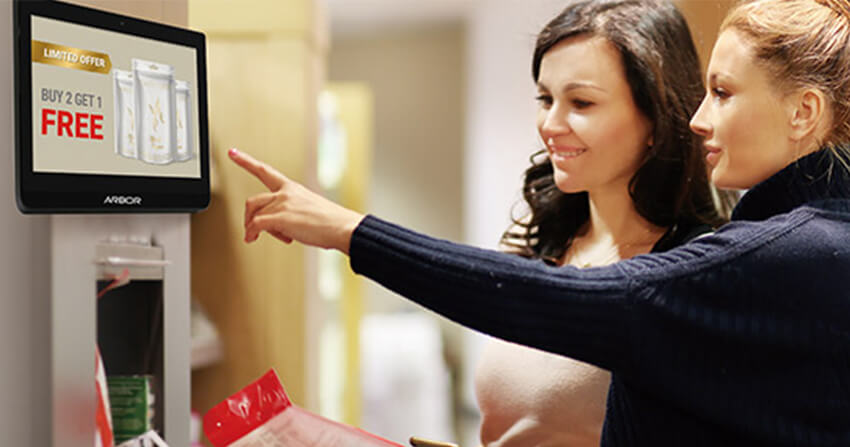 An Interactive Terminal to Better Engage Customers
As an addition to ARBOR's strong portfolio of Android computers and handhelds, the PC1017 is powered by a Quad-Core ARM Cortex-A35 CPU to deliver high-speed performance with great power efficiency. To provide customers with an intuitive interactive interface, the PC1017 features a 10-point projective capacitive multi-touch screen. In addition, the PC1017's multimedia playback capability, including a built-in speaker and support of flexible video streaming, enables retailers to use it as digital signage to further enhance users' shopping experience.
Easy Installation
With a 10.1" LCD display, the PC1017's profile is comparable to an A4 sheet of paper. It saves valuable floor space in a modern retail environment, but at the same time offers enough visibility to draw shoppers' attentions. Mounting of the PC1017 is quite straightforward. For retailers to mount the PC1017 to a wall or pole, POE capability eliminates the need for a separate power supply and cabling. To facilitate a table mounting, a VESA 75/100 stand kit (DMK-1200) is also available.
Flexible Options for Businesses to Build Their Own System
A wide variety of optional features can be integrated into the PC1017 to fit the diverse needs of retail and hospitality segments. With the 1D/2D barcode scanner, shoppers can easily check prices and look up product information. Alternatively, retailers can utilize the built-in camera or connect it to a USB handheld scanner for scanning functions. The RFID/NFC reader allows for applications like access control and employee time clocks. In terms of connectivity, the PC1017 offers multiple options including wireless LAN, Ethernet and PoE to be compatible with retailers' existing network infrastructure.
An Enhanced Version of ARBOR's Successful Android Terminal
The PC1017 is an enhanced version of ARBOR's successful PC1015. The preceding PC1015 has been deployed both at stores of a local supermarket chain and at a worldwide sports gear & equipment chain store in Poland to deliver better self-service experiences for customers. A software developer in Poland also installed the PC1015 terminals in offices and a nursery school to track workers and kids' absences. With a similar enclosure, the new PC1017 offers an array of enhancements including upgrade of CPU, GPU, memory and storage capacity. Running Android 8.1, the PC1017 also offers developers more development possibilities for interactive kiosk functions.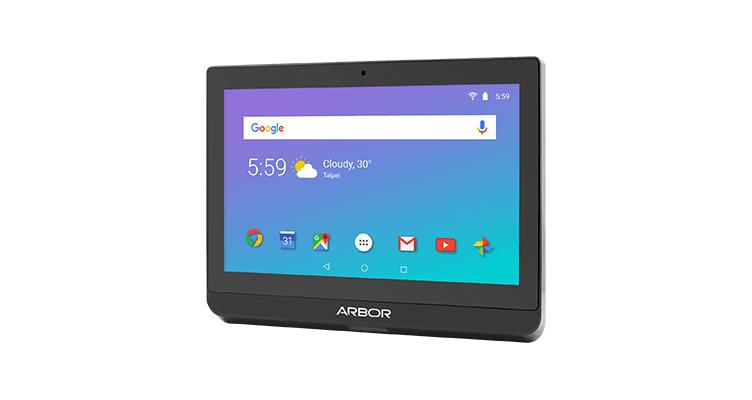 Key Features
Quad-Core ARM Cortex-A35 CPU 1.5G Hz, Android-based
Price verification/updates in retail application
10.1" LCD display
10-point Projected Capacitive Multi-Touch
Support Android 8.1
H.265/HEVC Video Decode
Operating temperature: 0~40ºC