Enhance Smart Inventory Management with ARBOR's Rugged Tablet
ARBOR's G1052C rugged tablet PC is used as an inventory and online order management tablet terminal for the supermarkets in APAC region. The tablet is used to oversee inventory anywhere in the facility, handle online orders and more.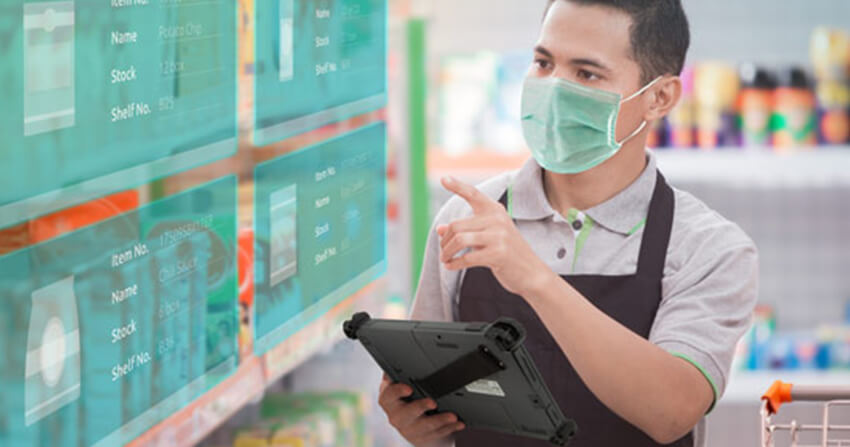 Grocery Store and Inventory Management Application
During these challenging times, many people have begun to work from home. If one don't have time to shop for fresh food or can't go to the supermarket, online grocery shopping can be your best alternative. Gladius G1052C is used as an order management tablet. The tablet enables supermarket staff to collect fresh food for your order, package them ready-to-go, and then have it either delivered or picked up from the store.
The versatile G1052C is also used for inventory management, due to its large 10.1 inch multi-touch display. You can easily navigate through a long list of products, review inventory anywhere in the store, make purchase orders, and use the device as a meeting room PC for conference calls.
Rugged Design Smart Retail Application
G1052C is ruggedly designed to compliance with MIL-STD-810G standard. It can withstand a 4ft drop to concrete, which provides protection for accidental drops during operation. Furthermore, the G1052C has IP54 water and dust resistance, and the housing is designed to allow I.P.A. alcohol cleaning.
NFC / RFID Reader for Staff Management
G1052C has a built-in NFC/RFID reader, which allows staff management on the device, and provides security authentication to prevent unwanted access to the system.
Hot-Swappable Battery for Long Hour Operation
G1052C is also designed with an internal 1880mAh and a hot-swappable 2500mAh battery. You can change the battery pack without the need to shut down the device, providing continuous operation without interruptions.
A Front-Facing Camera Customized for Conference Calls
When G1052C is not being use for inventory checks, it can be placed in a meeting room with a cradle stand that supports LAN connectivity and video out functionality, a camera module unit is fitted equipped with a high quality front facing camera that is use for internal conference calls. The G1052C is slim design, require minimal surface area to be suitable for a clean setup, making it ideal for areas with smaller spaces available.
Physical Keypad and Peripheral Support for Smart Retail
Using its USB3.0 port, the device is paired with a barcode scanner for inventory or order taking operations. It also has an additional USB connectivity for other peripherals such as receipt printer.
The built-in physical keypad can be programmed for specific functions. The function keys were programmed to bring up specific applications such as a virtual keyboard, key combinations, enable or disable hardware functions, peripheral functions and more.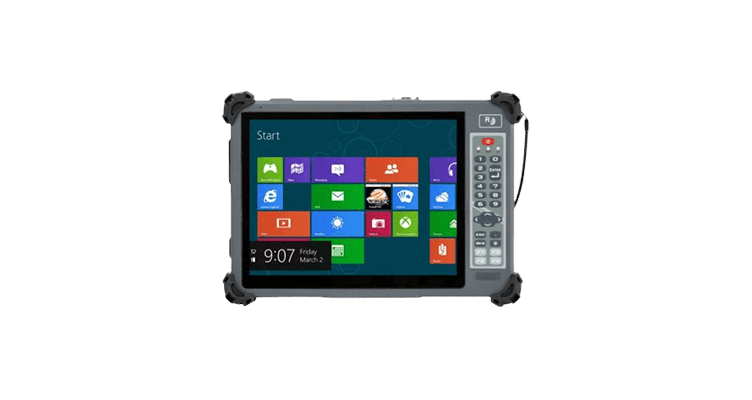 Features
10.4" AFFS+ TFT Active Matrix with Capacitive Touch Panel
Ultra low power consumption
Fully rugged for mobile POS or warehousing application
Meeting MIL-STD-810G, IP54, 4 ft. drop resistance
High mobility, multiple connectivity (Bluetooth/WLAN/WWAN)
Identification devices (barcode scanner, RFID & NFC reader and MSR)
Hot-swappable external battery w/ redundant internal battery
23-key keypad with numeric keys and function Keys
I.P.A. (Isopropyl) alcohol clearing allowed